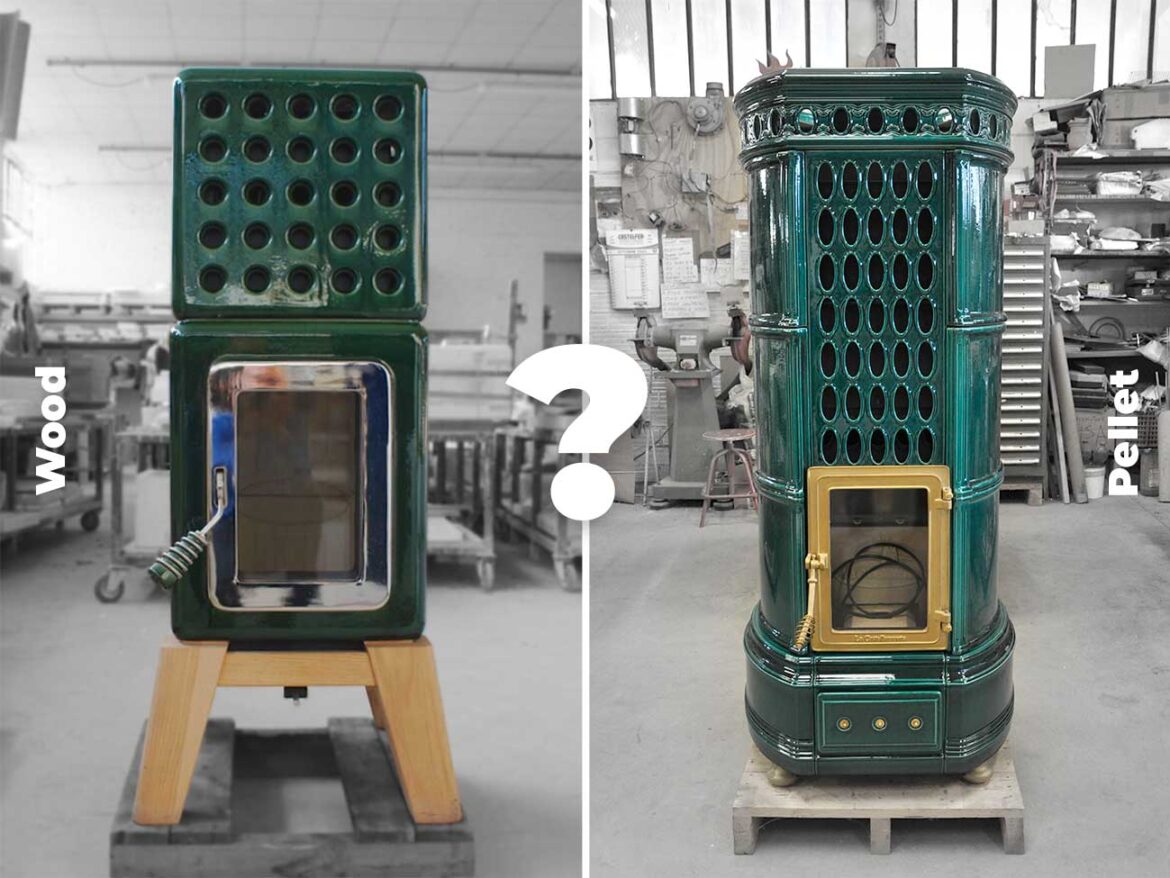 The home hearth, be it a fireplace or stove, is an indispensable corner for those who want a warm and welcoming atmosphere: it warms the house and at the same time furnishes, with its color and its warmth.
Wood or pellet stoves are both biomass heating systems, they use natural fuels, each with its own characteristics, suitable for satisfying different heating needs.
Wood stove
Wood heating has a very long tradition and for some it turns out to be a ritual.
A common saying has it that wood heats 3 times: when you cut it, to get the pieces to burn, when you load it, in the stove or to store it and move it, and when you burn it, the most awaited moment.
Benefits:
The stove can be lighted without electricity;
Wood can be available in abundance, and with considerable savings, for example in mountain and countryside areas;
The cost of wood is advantageous compared to pellets;
The wood stove is able to create a more comfortable atmosphere, the flame is more alive and natural;
The wood stove generates heat for a long time even after combustion has ended;
The level of maintenance required is very low.
On the other hand, wood requires more attention in purchasing, knowledge of suppliers and space for storage.
It also cannot be programmed. However, ignition is easy, it requires small wood and synthetic or natural based igniters.
Pellet stove
Pellet heating is based on the combustion of a material made with wood waste from sawmills or forestry companies. These materials are crushed, dried and pressed together, without the aid of any binder. Pellet is a fuel with a high thermal efficiency and calorific value, superior to those of wood. Pellet stoves are equipped with an electronic board that governs their entire operation, from ignition to shutdown.
Benefits:
Pellets are a very efficient fuel;
Pellet stoves have an electronic board that allows you to control the operation: ignition, temperature, programming etc;
The combustion material is sold in bags, on average 15 kg, and is therefore easier to manage in terms of procurement and storage;
Pellets require less space and can be purchased as needed or in a minimal quantity compared to wood.
The pellet stove is a heating system that requires electricity and is therefore unusable in the event of a power failure. In the pellet combustion system, reaching full capacity after ignition is faster but, at the same time, once turned off, the irradiation period is shorter than that of a wood stove.
Having many electronic components inside them, pellet stoves have higher maintenance costs than wood stoves: they also require more frequent cleaning.
Finally, although convenient compared to gas, pellets still have higher prices than wood.
There is therefore no single answer since there are many parameters to consider: personal tastes, design constraints, costs, methods of use, characteristics of the premises, etc.
If you have any doubts, please contact us.
We will be happy to help you!